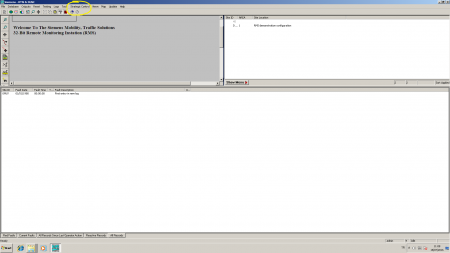 2
RMS OVERVIEW
2.1
The RMS system
The Siemens Remote Monitoring and Cont
rol system provides an easy to use and
highly reliable facility enabling the effi
cient monitoring and
management of a wide
range of "on street" equipment.
The advanced Windows
TM
based Instation allows operator
s to appreciate the status
of all monitored equipment at a glance us
ing a fully user customisable map based
display.
Equipment monitoring is performed by a
powerful 3U-sized Outstation Monitoring
and Control Unit (OMCU) t
hat can easily be fitted into most equipment housings.
Fault and status reporting is
via a PSTN or GSM network, allowing the most cost
effective communications infrastructure to be chosen on a site by site basis.
As well as monitoring applications the system
may be used for the remote control of
various equipment's including Variable Me
ssage Signs. Direct interface to the
Siemens Sietag Reader also provides
an integrated bus and emergency vehicle
priority system, complete with detailed re
cording of travel times and events.
An additional option that can be provided
is the RMS DUSC (Dial Up Strategic
Control) system, which allows a series of
intersections to be controlled in a
synchronised manner. Strategic control is
implemented using the CLF (Cableless
Linking) principal, but with plans bei
ng prepared and downloaded from the Instation
and implemented in each OMCU.
As there is no need to hold the plans in the traffic
controller configuration, modification of
plan data, should the need arise, is very
simple. Realising the plans
within the OMCU rather than th
e controller also has the
added benefit of avoiding the pot
ential for inconsistent plan execution because of
different controller CLF implementations.
Another additional option that can be provi
ded is sieClass (Vehicle Classification),
which allows vehicle classification by length into a maximum of 14 user specified
categories. The vehicle classification info
rmation is stored locally at the OMCU and
periodically uploaded to the instation where graphing utilities are provided to analyse
the data.
Gemini based Graphos Graphical Variable Message Signs (GVMS) are also
compatible with the RMS Instation. This
allows the RMS Instation to be used to
configure and monitor GVMS operation.